Customers' desire for products tailored specifically to them has recently skyrocketed. A few years ago, this was mainly restricted to personalized mobile cases and mugs, where people would have their images printed on their mobile cases or give customized mugs to their loved ones.
A wide range of products is now supplied with product customization, which has grown into a significant internet industry. While some businesses are incorporating customization trends into their operations to improve the purchasing experience, some brands build their entire business model on product modification.
Customizing a Product: What it Means?
The process of providing clients with goods and services that are specifically tailored to meet their wants and preferences is known as product customization or product personalization. Customers can either go to a retailer to have specific product adjustments made or they can personalize the things themselves exactly how they desire. The latter is what online shops provide—customized products that can be ordered online. Product customization has established itself in the eCommerce sector and has retailers' interest.
Advantages of Custom Products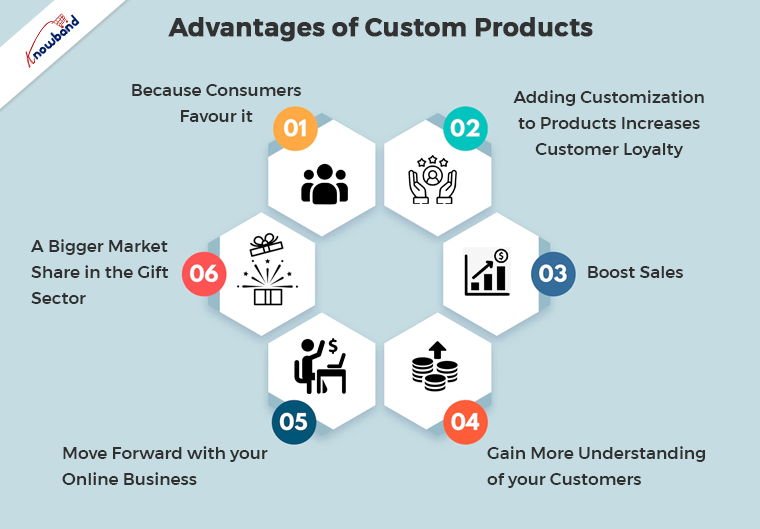 1. Consumers Favor It
Starting a business heavily depends on how well it is received by the public, and the concept of personalization has been well received.
Customizing a product gives it a distinctive personal touch. When clients customize a thing, it no longer just becomes a product; a feeling is also tied to it, whether they are designing it for themselves or for someone else.
Customers enjoy the idea of personalization, so brands have a great chance to succeed in the eCommerce industry.
2. Adding Customization to Products Increases Customer Loyalty
Customer loyalty is one of the main advantages of product customization. Customizing a product increases brand loyalty in addition to customer loyalty. Customers are more likely to be drawn to your brand and choose it over your rivals in future purchases if you give them a wide range of customization possibilities.
3. Customized products can Increase Sales
The next benefit of product customization is that it increases sales for you. The total quantity of sales is all that matters in the end. Sales won't decrease if you have established brand loyalty with your clients.
Customers are willing to spend more for a personalized item because they view it as an extension of themselves rather than merely a product.
A customer who is completely delighted with your services will undoubtedly tell others about your Brand, therefore product personalization promotes word-of-mouth advertising as well. In this manner, you might anticipate an increase in your sales amount.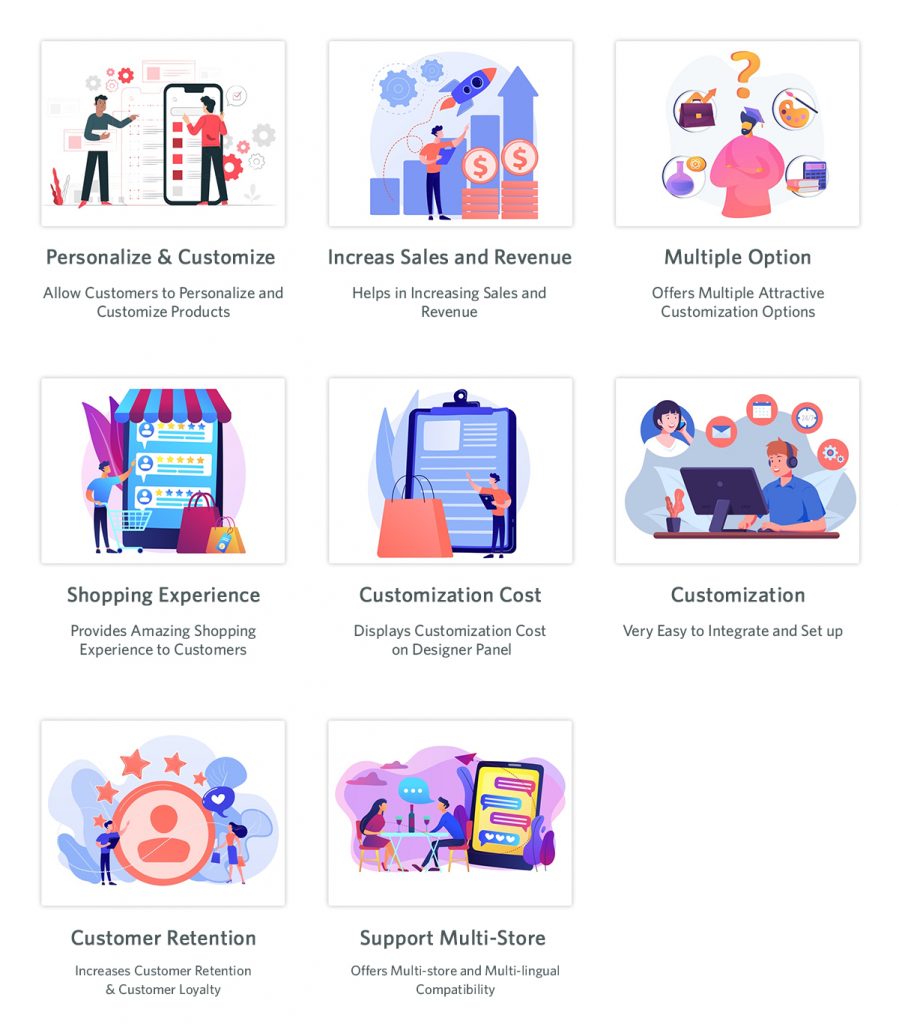 4. Gain more Understanding of your Customers
A customized purchase allows you to analyze your customer's preferences, likes and tastes in greater detail than a standard purchase, which adds to the advantages of product customization.
Brands can use the information they gather when customers buy customized products to present them with goods that match their previous tastes.
We may therefore conclude that product personalization gives you a competitive edge over your rivals and helps you learn more about your customers.
5. Move forward with your online business
Customers now find online shopping to be an engaging experience thanks to the growing popularity of product customization. So, this is the perfect opportunity to start providing product customization services and grow your company.
Product Customizer/Designer by Knowband is a tool you may want to use if you have an online store built.
6. A Bigger Market Share in the Gift Sector
The gifting industry in India has changed as a result of the development of technology. The industry for online gifts is expected to be worth $84 billion by 2024 due to its recent explosion in popularity.
Giving loved ones presents that are customized is popular. Additionally, adding a personalized touch to a product transforms an ordinary item into a charming gift!
As more and more transactions take place online, providing a product customization capability helps you dominate the gift goods sector.
Product Customization module from KnowBand

A Product Customization module provided by Knowband enables you to offer customization services to your clients. It adds a customization tab to your product pages so that customers can alter a product to their liking.
The Product Designer module has a number of options that allow users to completely customize their purchases, from adding the desired images to adding personalized text and QR codes.
It also offers retailers a wide range of customization options, including the ability to set customization pricing, show clients a design preview, and much more. Therefore, I would strongly encourage you to try this module if you want to add the customization capability to your Business. It gives you a fantastic chance to raise the average order value.
All done. I sincerely hope you liked reading about the advantages of product customization.
In case of any doubt or query about this module, you can contact us at [email protected]