It could be hard to choose the right eCommerce platform for your online store, from product listing to checkout, sales growth, and general experience enhancement. Discover some of the most effective methods for selecting them.
Managing an online store can be even more challenging than running a physical store because you have to consider the products you want to sell and how to present them. The first step in starting an online business is selecting the best eCommerce platform. These days, you can choose from a large number of the best eCommerce platforms to find the one that best suits your requirements.
Before going into detail about each tool, let's define an e-commerce platform and discuss its advantages and disadvantages.
What are eCommerce platforms?
An eCommerce platform is a complete software solution that enables sellers to manage and sell their goods and services and customers to purchase them. They have important features like eCommerce website builders, infrastructure for customer service, accounting, and payment processing. Online businesses can also manage their websites, marketing, sales, and operations, in addition to the aforementioned tasks. On the other hand, customers can use the e-commerce platform to find products, shop, and then check out.
Why Should You Utilize an Ecommerce Platform?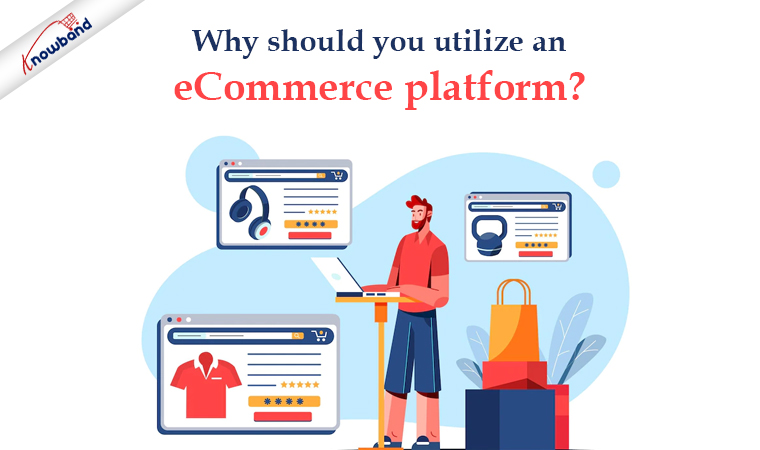 As was previously stated, operating an online store is time-consuming because you must pay a ton of plugins to automate processes like email sending, returns, or accepting third-party plugins like the eBay integration tool, Etsy marketplace connector, etc.
What Are the Top Ecommerce Platforms for Online Shops?
Make sure you evaluate a few before choosing an eCommerce platform because each one has unique benefits and drawbacks. To help you choose the best platform for online stores, I've reviewed and given recommendations for some of the best eCommerce platforms.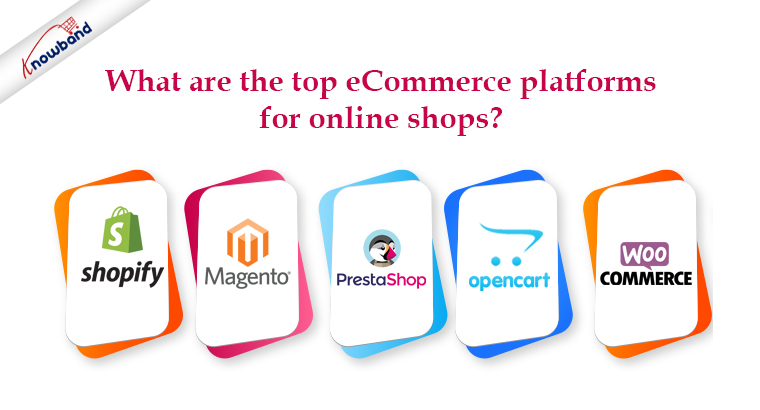 1. Shopify
Due to its many features and suitability for creating any type of online store, Shopify is the tonne platform that is growing in popularity. The design of your store is entirely under your control, so there are countless possibilities for customization.
If necessary, you can quickly edit the code. Second, you have the option to handle orders from clients as soon as they come in. Thirdly, customers and store owners will be pleased with the effective tracking of secure payments. Fourth, you can expand the functionality of your website to meet any of your needs by adding a variety of features.
Shopify is not free, but it has amazing features, so you should weigh your options. One of them is picking from a variety of pre-made Shopify themes.
You are a great illustration of a Shopify template for the fashion industry. Your website will adapt to various browsers and devices because it is fully responsive. It also offers countless options for how to present your information. You can, for instance, add banners, display featured products, make galleries, combine text and images, write blog posts, set collection and logo lists, and many other things. Additionally, your customers will appreciate the opportunity to sort goods using a variety of criteria and select the currency in which to make payments.
2. Magento
Magento is the next e-commerce platform being considered. It was designed specifically for eCommerce and offers a number of features for managing customers, payments, and loyalty as well as online sales.
Small and medium-sized businesses can get started with the Community Edition, which is free to use if you provide your own hosting. Although it doesn't require any coding knowledge to customize your website, Magento can become slow due to its numerous features.
3. PrestaShop
Prestashop is a platform that is good for multilingual websites and is relatively simple to launch and maintain for your online store. Additionally, you can easily upgrade, and you can look for assistance on a forum. As for its drawbacks, you will need to spend a lot of money on additional modules to increase the productivity of your store, and this platform is not ideal for creating extensive online stores.
Let's say you have a PrestaShop theme like Kids Store PrestaShop Theme. In that case, you can quickly alter your website's design, select various product presentation options, and include audio, video, banners, sliders, or carousels in order to impress your visitors.
4. OpenCart
The greatest eCommerce platform that includes both free and premium plugins is OpenCart. Additionally, its script is XHTML compliant and has a clear hierarchy of graphic templates, so changing the appearance of your shop shouldn't be too challenging.
Additionally, it doesn't have a lot of built-in features, so unless you add too many plugins, it can ensure server resource efficiency. The best option for those just starting their online store is OpenCart, which has the best administration interface.
Regarding OpenCart's shortcomings, you will need to optimize your code because it is not entirely SEO-friendly. It also lacks effective technical support, so you will have to enlist the assistance of the forum community to fix any issues.
OpenCart themes, such as Visual, a responsive OpenCart template, can be customized to include an efficient MegaMenu to categorize products, Product badges to conveniently provide information about interests, and an Ajax Search to speed up the selection process.
Management of your store will be simple. Built-in SEO is available with OpenCart. It will be simple to manage your products, customers, orders, tax regulations, coupon codes, and more.
If you want to increase the functionality of your store, OpenCart offers a wide range of eCommerce modules and themes.
5. WooCommerce
WooCommerce is one more reliable platform for launching an online store. On the one hand, its main advantages are that it is free, that there are many plugins available to customize your website, and that there are many tools available for analysis, such as those that allow you to measure sales by brand, compile your daily and monthly sales, or accept plugins to connect with other marketplaces like WooCommerce's eBay and Etsy integrations. Additionally, this technology is safe and ensures that customer transactions are secure.
WooCommerce, on the other hand, has a number of drawbacks, including the requirement to update your store fairly frequently and the requirement of knowledge to customize your website without assistance.
You must first install the WooCommerce plugin. You can obtain it from the WordPress repository for these basic reasons. It is, incidentally, totally free.
How do I pick the Best eCommerce Platforms?
Let's examine the benefits and drawbacks of the most popular platforms to assist you in making the best eCommerce platform selection.
Conversions, or more specifically, sales, are the most important factor to consider when running an online store. Will the template be useful to you in this regard? "Yes" is the response to this query.
A. An Impressive User Interface
A contemporary eCommerce template will help your store stand out from the crowd and dazzle your customer base with an unmatched modern user interface. On the other hand, no one enjoys shopping in the congested, out-of-date, or impersonal interfaces you end up with without a good theme.
Instead, a top-notch e-commerce template allows you to design a memorable user experience that is consistent with your brand identity and sets your website apart from the competition.
B. UX boost
Where do people choose to shop when there is fierce competition in the market? Obviously, a convenient location for shopping! A well-designed template includes a pre-built extension pack that elevates the shopping experience. A theme can provide extensive catalog filtering, sorting, and categorization options right out of the box.
Additionally, features like 360-degree product presentation, bright product image zoom, and lookbook functionality create an unmatched experience that would be difficult to foster without a template.
C. Conversion Boosting
It is difficult and time-consuming to optimize conversions. A conversion-optimized template, however, completes the task in half. Smart placement and design of CTAs and CTA buttons within such themes increase sales and revenue for your company.
D. SEO Optimization
If you don't use a template, you'll have to learn SEO optimization from scratch. On the other hand, by starting with an SEO-optimized eCommerce theme, you provide your website with a strong foundation from which to grow in the SERPs and attract more online customers.
E. Shoppers on the Go-Friendly
The number of mobile shoppers is rapidly expanding. You must either take care of mobile optimization or choose a current, mobile-friendly theme. Such a template would offer a quick and comfortable shopping experience on mobile devices, bringing you more repeat customers and sales.
For many reasons, using a high-quality template for your e-commerce site is one of the surefire ways to increase sales.
Conclusion
Overall, when selecting the best platform for an online store, you must take into account the size of your company, the need to update your store, the number of features required, and the financial implication, or the amount of money you are willing to spend to upgrade your online store.
You ought to be able to choose the ideal eCommerce platform for your online shop, in my opinion.