Want to make a similar app to Amazon's? Any business that sells things online wants an eCommerce store that is as busy and interesting as Amazon. So, where do you start? What tools do you need to make this kind of app? In the sections that follow, we'll show you how to make a shopping app like Amazon without writing a single line of code.
How to Get your eCommerce App Out there?
Amazon is the most well-known name in online shopping. Since its start in 1995, the company has grown to become the most popular online shopping platform in the world. Amazon has a global customer base and reach, so millions of stores and businesses use it to move their goods.
The numbers speak for themselves. According to The Business of Apps, Amazon's sales will reach $470 billion in 2021. This income comes from all of Amazon's services, not just its e-commerce marketplace. Amazon Web Services (AWS), Amazon Alexa, Prime Video, Prime Music, and more are all examples of these services.
Amazon is only the fourth tech company ever to be worth more than $1 trillion as a whole. These numbers show how a small e-commerce startup could grow to become a global conglomerate.
What should you do before Making an Amazon-style app?
Before you start building an app like Amazon, you should do your research as a business. It's easy to say you want to make an app like Amazon or Walmart, but it's hard to do so. You need more than just money and time to make an app. You also need a good plan before and after the app goes live.
Market Research Should be done on apps like Amazon
Apps like Amazon have a lot of features and functions, some of which are visible and some of which work in the background.
So, what exactly is market research? Most of the time, doing market research for an app means looking at how other app companies handle their products. This includes technical details like the features of the website and app, as well as marketing and promotion details for the app.
Before you Make an App like Amazon, you Should Follow these Steps to Learn About the Market: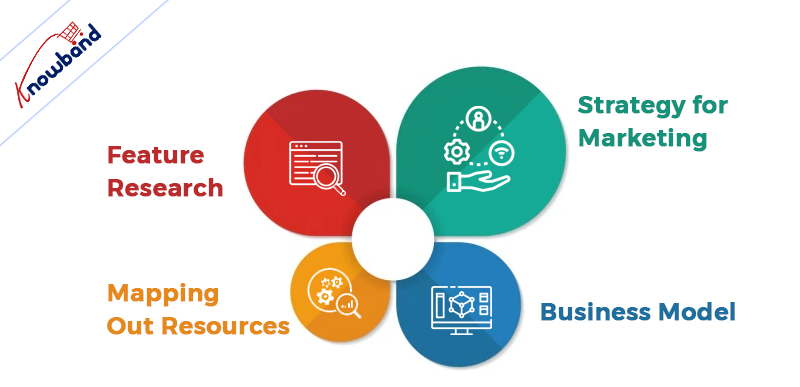 Feature Research: First, you should think about what parts of your app make it work. These should ideally include both the main features that the user sees and the background features that make the whole app work.
Mapping Out Resources: Find out what resources you'll need for the app to work. This includes things like integrations, technical requirements, marketing assets, and more.
Strategy for Marketing: Look at how similar eCommerce apps market their apps and businesses. This will help you come up with your own marketing plan and give you a starting point.
Business Model: Look at how your competitors do business. What kind of discounts do they have? How do people get their money back? What kinds of products or services do other apps like this one offer? These and other questions will help you figure out how eCommerce apps that do well make money.
Make a List of What you Need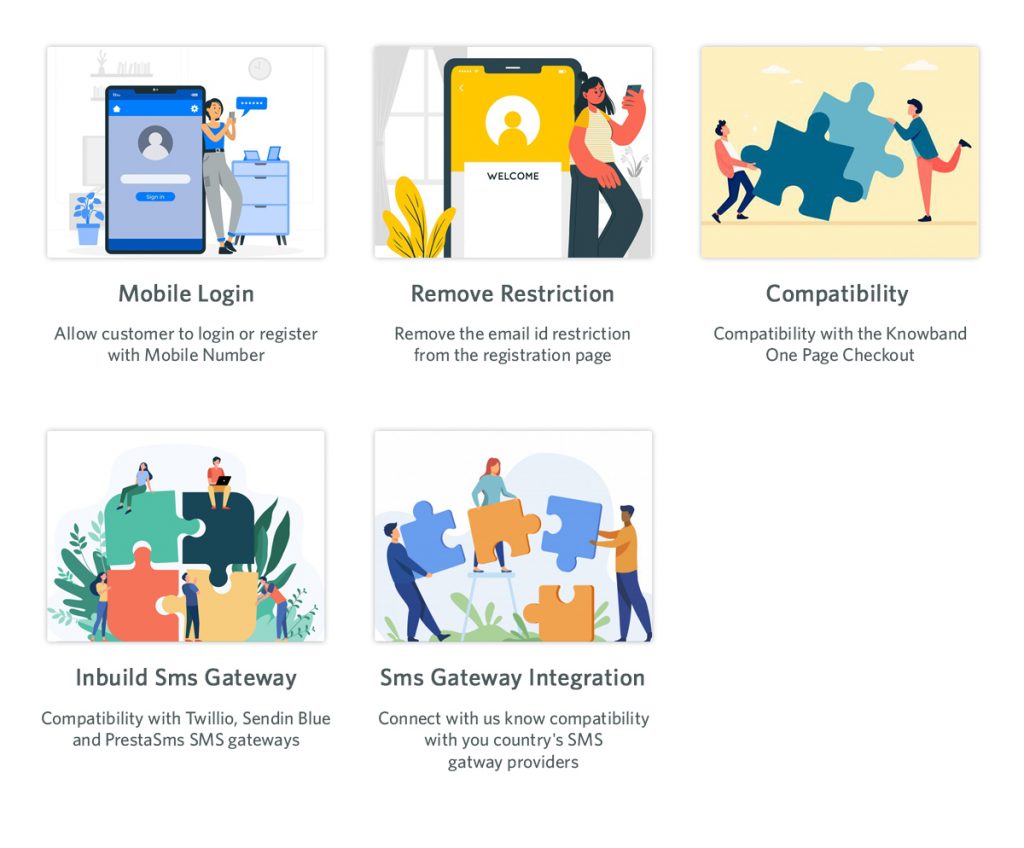 When you're done with your research, you should have a good idea of what features your app needs.
The next step is to make a list of everything you want your mobile app to have. Often, businesses think of this part of the process as a wish list of extra features. But the features you choose will shape a big part of how you use the app.
In an ideal world, you should only choose features that are necessary for your app to work and offer enough from a UI/UX point of view. Adding too many features could slow down the development process and make the app more expensive to make.
Customers judge shopping apps by how easy they are to use, how well they work, and how reliable they are. Customers don't compare features because they're more interested in other things about an app, like discounts, rewards, and how easy it is to use in general.
Figure out How much it will Cost to Build
The cost of development can change based on the features you want, the size and location of your team, and even the method you choose for making the app.
The most important thing is how many hours it would take to build the app. The longer your development team would need, the more features, functions, and design requirements you have.
So how can you figure out how much your project will cost? Find out what the average hourly rate is for app development and multiply it by the number of hours it will take to build the shopping app.
Most of the time, an eCommerce app costs between $30K and $50K. Depending on what features you want, the price may go up. If this is too much money for your business, you can use a no-code app builder or something else.
Choose a Development Method
When more and more people started using smartphones, mobile apps became popular. At that time, the only way to make mobile apps was to code. Most businesses hire agencies to make Shopping App, but some also hire development teams to make and manage apps in-house.
This might work for a big company, but custom app development can be expensive for a small business.
But now you can use no-code development as an alternative. You don't have to write a single line of code to make powerful native apps that you can then publish to the app stores. With tools like Knowband's eCommerce app builder, it only takes a few minutes to make an app, and you don't have to spend a lot of money to get started.
Most of the time, these platforms have different subscription plans with different features and other factors.
Make an App Like Amazon in 3 Steps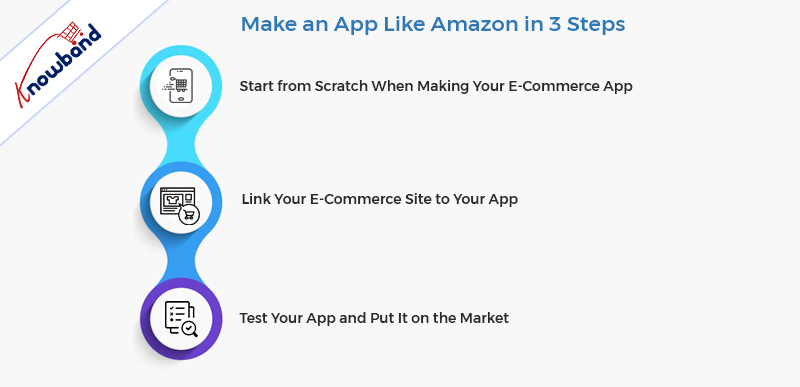 If you use a no-code app builder like Knowbaand, it's easy to make an Amazon-style native eCommerce app. On the platform, it only takes four steps to build an app that works. In the sections that follow, you'll find a step-by-step guide to how the process works.
#1: Start from Scratch when Making your e-Commerce App
The first step is to start from scratch when making an eCommerce app. With Knowband's design features, you can make your app's assets and screens look the way you want.
#2: Link your eCommerce Site to your App
With the Knowband mobile app maker, you can turn your current website into a mobile app. If your e-commerce site is already up and running, you can turn it into a mobile app.
Knowband's mobile app builder gives you deep integration if you have an online store. This means that all of your eCommerce store's native features are copied to the app interface. Deep integration also has other benefits, such as shipping and payment options that work for everyone, the ability to sort and filter, and more.
All your online store's products and information about them will be synced to the app. Website site pages will be automatically rendered in the app.
#3: Test your App and put it on the Market
The final step is to test your app and distribute it through app stores. With the Knowband Mobile app builder plugin, you can test your eCommerce app. You can also try out the app on a smartphone to make sure it works right.
Once your app has been fully tested, it's time to put it on the app store. The following steps will give you a general idea of how to get your app into app stores
Benefits of Making an Ecommerce App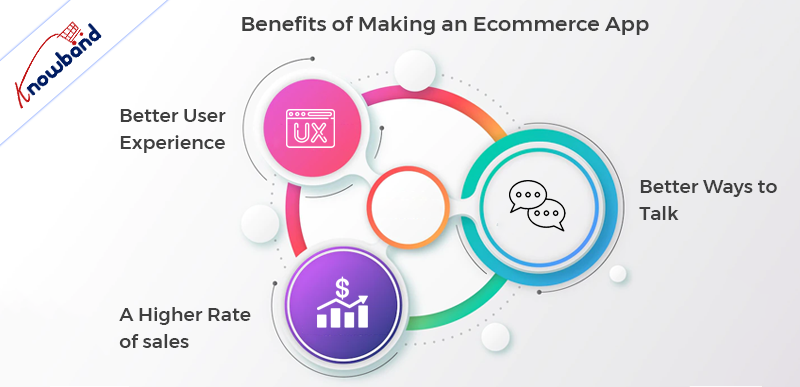 #1: Better User Experience
When it comes to a smooth user experience, shopping apps are a better choice than mobile sites. Native mobile apps are much better at adapting to smartphones than mobile sites. This is because mobile sites, no matter how mobile-friendly they are, are built to work in browsers.
Building a native app can help you give your users the best possible mobile experience. With apps, you can also offer extra features like customer chat, support for more than one language, and more.
These tools can help you give your users the best experience possible. The time it takes for a screen to load is also faster with apps. Your customers would be able to order items and look around your store much faster.
#2: Better Ways to Talk
With mobile apps, you can use different features to talk to your customers in a better way.
Communication is important if you want to keep your customers happy. Try to understand what they're going through. Most app companies have to deal with a lot of users leaving, and the best way to keep them is to talk to them.
Features like customer chat and push notifications using tools like Knowband Mobile app Creator will help you to stay in touch with them.

#3: A Higher Rate of Sales
Statistics from e-commerce show that 85% of customers would rather shop with a mobile app than a mobile site. For the same reason, mobile app conversion rates are higher than mobile website conversion rates.
This is the reason you should put time and effort into making a mobile Shopping App for your eCommerce business. If you have a live mobile app, you have a much better chance of making a sale. Apps are the best way to get as many customers as you want because most online shopping is done on smartphones.
In Conclusion
Do you want to make a shopping app like Amazon? A lot of thought needs to go into something like this. There are a lot of things to think about before you start making an app, from how much it will cost to make it to what kind of method you will use.
This article tells you how to make a shopping app like Amazon from start to finish. You can make a mobile Shopping App for any kind of business using a platform like Knowband.