It takes time to persuade someone to purchase your stuff. You must first draw visitors to your website, then persuade them to stay, browse your products, and add them to their shopping basket by providing them with an engaging homepage and useful content. Wait patiently for them to check out. You send out reminders for check out, but nothing happens. The main issue that most Magento 2 stores deal with is cart abandonment.
Numerous factors may deter customers from purchasing the product. Then again, certain solutions may be able to lower cart abandonment rates. Understanding cart abandonment will help us go on to discuss its causes and solutions.
Cart Abandonment: What is It?
It is an indicator of how many people visited a website, put things in their carts, and then departed without making a purchase. It may be goods or services that customers wanted to purchase but did not do so for a variety of reasons.
Owners of the website are frustrated by this problem because they know the visitor liked the goods because they added them to their shopping basket. They were unable to purchase it, though, for some reason.
There could be a lot of causes for this, after all.
Reasons and Fix for Cart Abandonment
1. Undisclosed Shipping Fees

Have you ever purchased something and then been shocked by the additional delivery charge? This is something that many websites do, and a lot of users may find it to be very off-putting.
When a customer browses a website, they could find something they like and put it in their shopping cart, presuming they already have this item in their possession. But when they go to check out, they find that the additional shipping costs they were not aware of have been added to the price of the item.
Solution:
Include shipping costs with the goods themselves and offer "Free Shipping" rather than introducing them as a surprise to customers after the checkout process. Additionally, you can mention that you provide free shipping for purchases over a certain amount in the product specifications. Offering discounts to offset shopping fees or informing clients in advance if you charge for shipping can be effective solutions.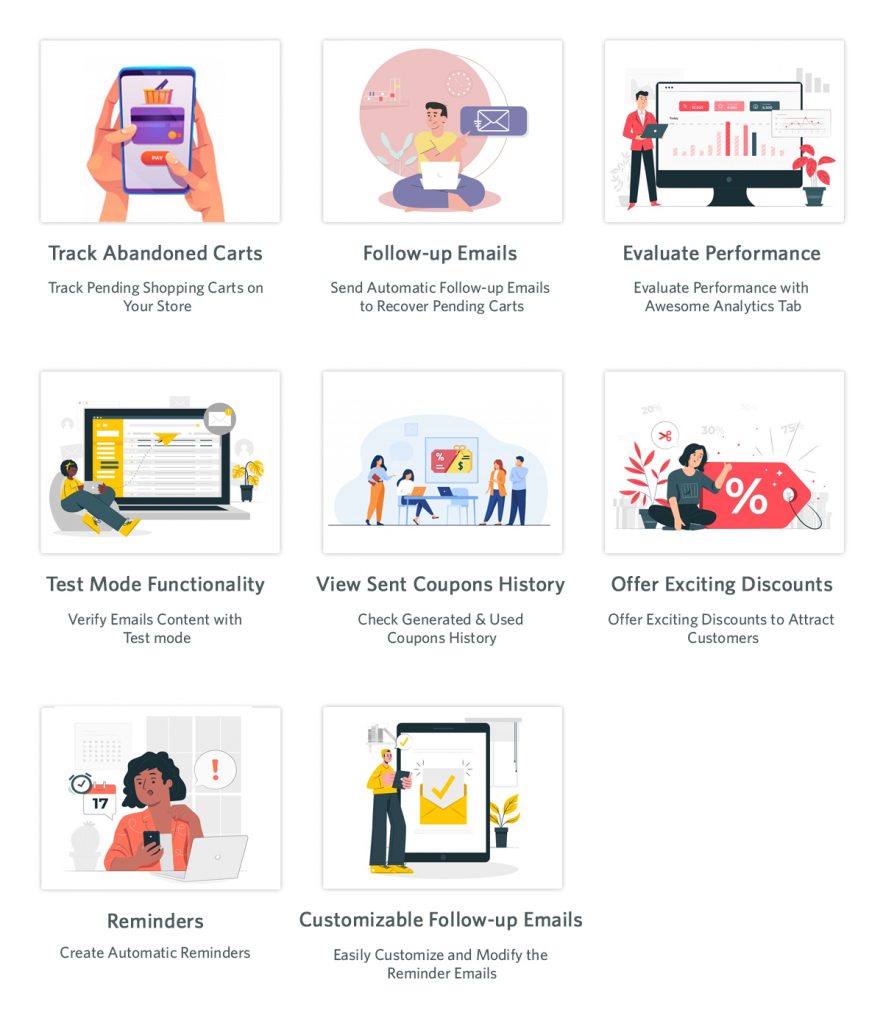 2. Comparing prices
Customers no longer immediately purchase anything they see. They attempt to locate the same goods and compare pricing across several marketplaces. They would remove this item from their cart and replace it with a less expensive one if they discovered the identical thing for less money.
You can compare product costs on several platforms using some websites. Instead of making a single purchase, many buyers compare costs. The perception of high prices across all channels may be another factor, leading people to give up on making a purchase.
Solution:
Use emails and notifications to maintain contact with customers who you lose to price comparison sites. You might ask them if they still want to buy the product if you cut pricing during sales. Such reminders demonstrate your concern for your consumers' preferences by helping you recover lost business.
3. Stock Is Low

If a consumer spends a lot of time choosing a product and it sells out before they can purchase it, it can be a terrible customer experience. A) They might never use you again for the transaction; B) they might create the impression on your website that you don't value your consumers' preferences.
All of those are bad for firms looking to expand or boost sales. If someone makes the effort to purchase a product from your website, it is your responsibility to make sure your inventory is organized.
Solution:
Your troubles can all be solved with an inventory management app. Your products never run out of stock thanks to their excellent stock management. With the use of this instrument, you may avoid overstocking the product and reducing cash flow while assisting with low stock levels.
4. There aren't any other payment choices
The most important factor here is that you are losing a consumer who is ready to buy the product, has completed the necessary checkout information and is about to make a purchase. They choose not to purchase the item, however, and leave it in the shopping basket because you don't offer enough payment choices.
There are several reasons why a customer can decide against using any other payment method, have doubts about alternative payment methods, or stick with just one payment method for all of their online transactions.
Solution:
As a store owner, it is now your duty to include all well-known and dependable payment alternatives in your store. In order to reassure users that it is a secure environment for transactions, you can add security and trust badges. Reduce the percentage of abandoned carts in Magento 2 stores with simple additions and tweaks.
5. Lack of Delivery Date Details

The majority of internet shoppers want their purchases delivered quickly. However, not all online vendors can offer same-day and next-day delivery since we have platforms like Amazon with fantastic logistic services and an effective crew to provide them.
There are online marketplaces for handcrafted goods. Fast deliveries are not a possibility because the goods need time to be prepared. Customers occasionally fail to comprehend the cause of late deliveries, nonetheless.
The absence of an estimated delivery date is the second justification. If customers don't know when you'll deliver the product, they can decide not to buy it. They are unable to determine whether the product will arrive when they need it if they need delivery before a specific date and do not have information regarding the delivery date.
Solution:
Give clients a precise delivery date or let them select one to persuade them to purchase the product. To implement a function that might aid in lowering cart abandonment rates, use the Shopify Delivery Date Manager plugin.
6. A Protracted checkout process that forces customers to register
Who likes to make quick purchases while commuting or taking a quick break and continuing adding details? If a customer is making their first online purchase, they can give up if the checkout process is too difficult.
Keeping sign-ups required could be the alternative explanation. Not every customer is prepared to commit and wants to sign up. They might only want to use the website to make one purchase and check out as a guest. As a result, challenging checkout procedures may discourage customers from purchasing the item.
Why make things complicated when they can be simple?
Make the checkout process simple for customers by using one page. Knowband Conversion rates can be drastically altered by a simple modification.
Knowband has long been a Magento 2 partner and is familiar with the difficulties faced by Magento 2 store owners. And to solve this problem, we have modules like One Page Checkout, Abandoned Cart, Spin and Win, and so on that aids store owners in boosting conversion rates and lowering cart abandonment. To know about these modules in-depth, feel free to get in touch with us at [email protected]